It is now Jan 19th. I've been a little lax updating our progress here. These next photos are of last week. I'll try to take some new ones Monday.
FINISHING UP THE ROOF SHINGLES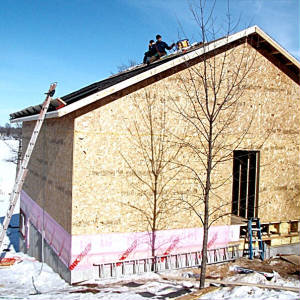 LAKE SIDE, LOWER LEVEL WALL IS REMOVED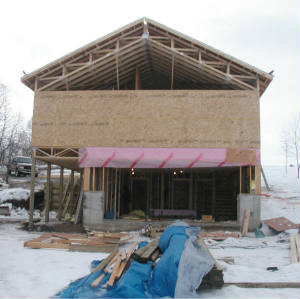 BRAD IS FRAMING IN THE NEW WALL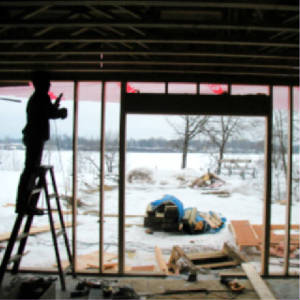 FRAMED IN FOR A PATIO DOOR AND 2 WINDOWS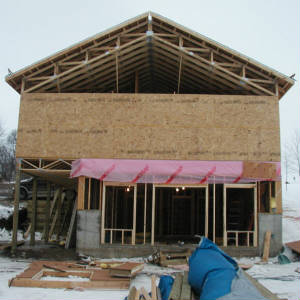 We are also finished with all the interior walls.
The upstairs bed & bathrooms sizes were all set on the blueprints and we stayed with those sizes.
But do to the vaulted roof trusses the home owner wanted to let the upstairs walls kind of evolve as we went along. Installing some unique high up shelf/ledges as apposed to the standard straight up center walls found in most homes with vaulted ceilings.
As we were up on the scaffolding over the master bathroom, the view out the gable end of the house was so fanstasic that it was decided that a "reading loft" must be put up there with access from the master bedroom. The view will let you see the lake over the top of the trees along the shoreline. A quiet place to escape with a book and a beautifull view. It will have a large 5 ft high by 6 ft wide house shaped picture window.
MARCH 26TH