(Nov 6th, 04) I decided Zi was ready for me to climb aboard. It just so happened that Brad & Mallory come over to take Blue & Ranger on a trail ride. So since I had Zi all saddled up, Brad was ready to take Zi on her first ride. All went very well.
Zi is carrying a snaffle bit in her mouth but the reins are attached to the rope halter. She has accepted the bit just fine and does not mess with it at all.
Here are Zi's "First Ride" photo's.
SHE'S BEEN SADDLED SEVERAL TIMES PREVIOUS
CHECKING OUT HER REACTIONS...A-OK
THE BRAKES WORK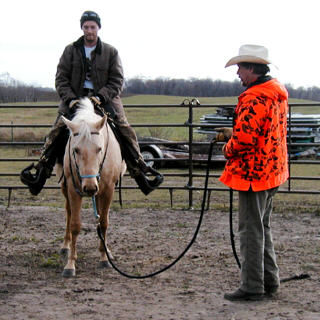 SO DOES THE GAS.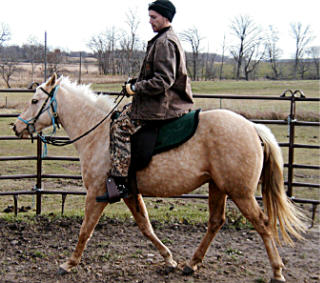 ZI HAS A NICE SMOOTH TROT
NOW FOR THE OBSTACLES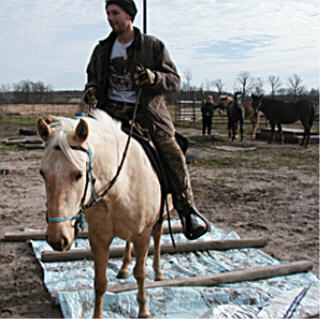 ZI CROSSES TARP EASILY
ZI CATCHES A TIRE WITH HER FOOT, BUT SHE'S OK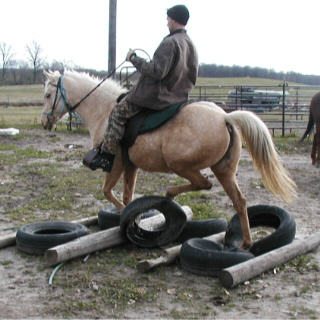 SHE STOPS AS BRAD APPLIES THE BRAKES
MATTRESS IS NO PROBLEM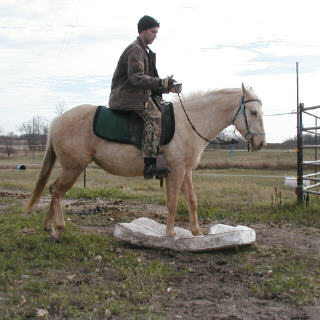 AND OVER THE BRIDGE WE GO.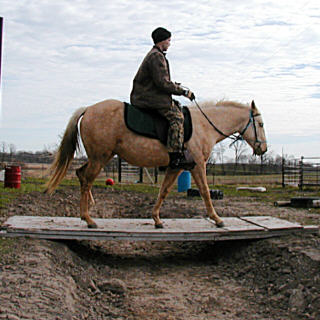 SHE GIVES THE PUSH BARRELS A GOOD TRY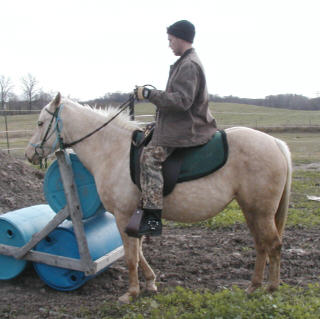 IT'S STUCK SO BRAD BACKS HER OFF
STOPPING AT A GOOD SPOT ON THE LAST OBSTACLE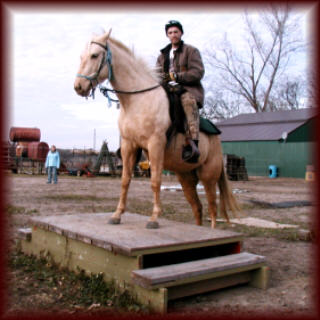 At this point Zi's riding time has been less than 30 minutes from the time Brad swung into the saddle, to standing with her front feet on the platform. She did quite well. Zi should be on the trail before too long.
******************************
(Nov.13)
Although using horses to hunt deer in Minnesota is not legal, our horses may end up being used to pack out wild game out West. Zi was a little unsure of the fresh deer hide at first with a few minutes work she was accepting it on her back.
As I pulled it off and let it fall at her feet she stepped on it and sniffed it.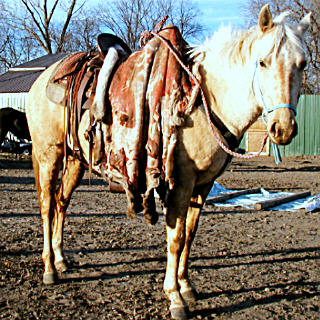 I rode Zi today (Nov.14) out in the pasture. This was her second time with anyone on her back. She was a little hesitant to go but did ok. She is doing well with the bit in her mouth although we still have not attached the reins to it. In these two photo's I had neglected to put her bridle on and didn't go back to the barn for it since I wasn't intending to use the bit anyway.
Zi is 14.1 hands tall. Short enough to easily mount, yet large enough to carry most riders all day long. My combined weight with saddle is about 250 lbs. This is ok for short rides.
For 10 to 20 mile trail rides 180 lbs would be about the most she should carry.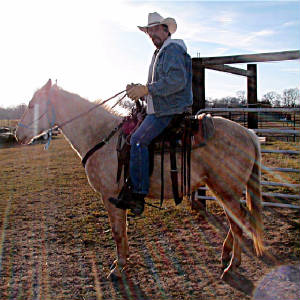 PUSHING BIG GREEN BALL OUT OF THE WAY TO EAT HAY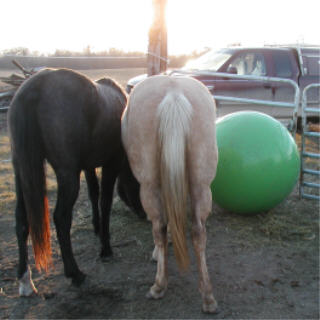 PUSHING THE BALL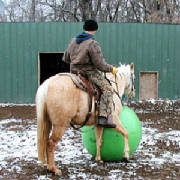 UP THE TEETER-TOTTER
DOWN THE TEETER-TOTTER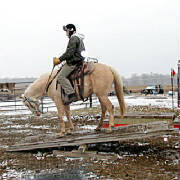 (May, 05) Zi enters and exits a tight trailer stall with no problem. She has now had several hours of road time and has behaved quite well.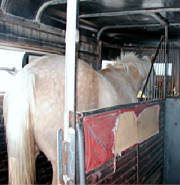 JUST POINT AT THE TRAILER AND SAY "LOAD UP"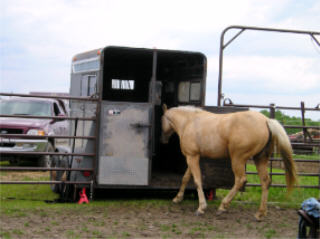 AND IN SHE GOES, EVEN AT LIBERTY
1ST TIME IN DEEP WATER
SHE MAY BE PART YELLOW LABRADOR !
ZI IS DOING PRETTY WELL AT LAYING DOWN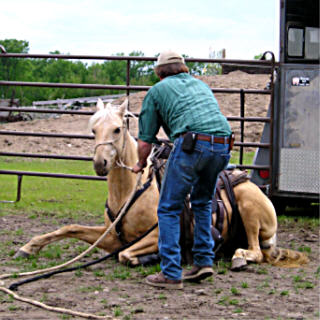 4 YRS OLD IS STILL TOO YOUNG TO RISE WITH A RIDER ON
Moonshine Faleen 4365341 2001 palomino mare

SI: 0 Starts 0 Wins: 0 2nds: 0 3rds: 0 Earnings: 0 Hlt Pts: 0 Perf Pts: 0

SIRE side of pedigree

Benito Bar Jack 1979
1494487 sorrel
H- 17.0 P- 27.0

Doc's Benito Bar 1963
0284175 sorrel
H- 26.0 P- 12.5

Solid Gold Edition 1990
2897543 palomino
H- 79.5 P- 0.0

Sally Jack 1970
0698715 sorrel
H- 1.0 P- 0.0

Rapid D Or Billie 1980
1595799 palomino

Rapid D Or 1972
0845966 palomino
H- 36.0 P- 0.0

Solid Gold Cody 1993
3186028 palomino

Sparky Billie 1973
1003200 sorrel

Bill's Rock 1969
0603999 sorrel
H- 51.0 P- 5.0

Cutter Bill 1955
0053703 palomino
H- 15.0 P- 334.0

Silk Delight 1984
2260346 sorrel

Rimrock Gal 247 1965
0355893 sorrel

Caca Cody 1965
0462942 sorrel

Babe Cody 1954
0061928 chestnut
H- 19.0 P- 7.0

Bremond Bess 1951
0063738 bay

---

DAM side of pedigree

Buttermilk Bar 1961
0164429 palomino
95 44 10 7 1 $ 5,100 H- 17.0 P- 18.0

King Leo Bar 1957
0106089 sorrel
95 5 2 2 0 $ 2,035 H- 27.0 P- 28.5

Buttermilk Lou 1972
0889519 sorrel
H- 9.0 P- 1.0

Buttermilk Kay 1953
0050531 palomino
H- 1.0 P- 0.0

My Bonnie Lu 1966
0436525 sorrel

Dusty Cash 1957
0074765 palomino

Moonshine Chicaro 1983
2135114 chestnut

Punky Lu 1956
0063051 sorrel
H- 2.0 P- 5.5

Upset Chicaro 1963
0310841 chestnut

Up Set L 1947
0017956 sorrel
75 7 2 1 0 $ 696

Sunshine Chicaro 1973
0943733 chestnut

Sulo 1954
0109510 brown

Satin Bonnet 1970
0750409 chestnut

Red Steve 1957
0066610 sorrel

Poco Sun Bonnet 1967
0524149 palomino

---
Click on photo below to see pictures of "Blue".