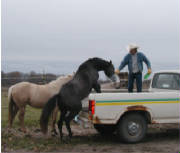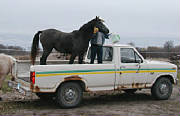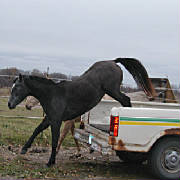 TOO ICY FOR A JUMP TODAY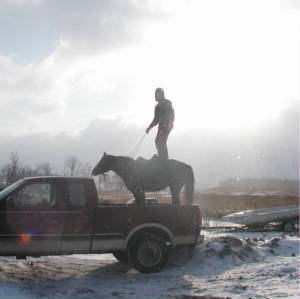 WE BACKED UP TO A MOUND OF DIRT TO LOAD HER
Blue has turned out to be a very steady horse. Nothing much spooks her. She did very well the first time I walked her through my obstacle course. Blue didn't even flinch the first time over the teeter-totter. Touch her anywhere, ropes and rubber balls hung around her legs, belly, and flanks don't bother her.
Her obstacle training includes walking over tarps, wood bridges, platforms, popcans, plastic bottles, tires, teeter-totter, steps, and logs. Desensitizing to ropes, rain slicker, spray bottle, flags, vehicles, fans, balloons, mailboxes, large inflateable balls, stuffed toys, gates, flashing lights, fresh animal hides, raw meat, etc. She also leads from a rope tied to either front foot.
FIRST TIME WITH ANYONE ON HER BACK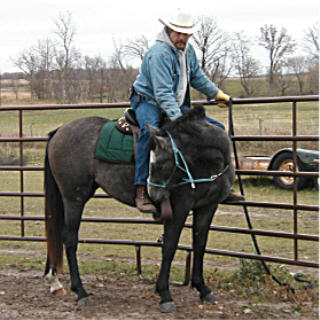 BLUE IS VERY SOFT IN THE NECK
LEARNING TO TAKE A BOW.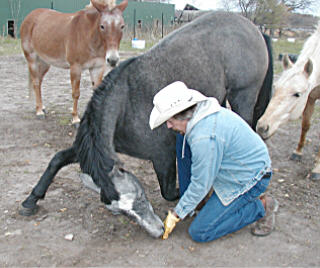 These next photos are of Blue's first time ever of moving out under a rider. Brad, our son, is the rider. This is the first time he has worked with Blue. She did very well; not a buck, jump, or hop.
It was very muddy due to all the rain, so he just walked and trotted a little. No cantering. It was also the first day with a bit in her mouth. She accepted it quite well. The reins are actually hooked to the rope halter for now, She is just carrying the bit to get used to it. We are using a Jeremiah Watts, sweet iron, egg butt snaffle bit.
CHECKING OUT THE TIRES.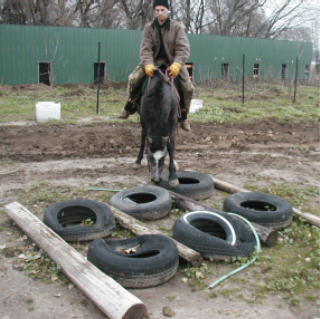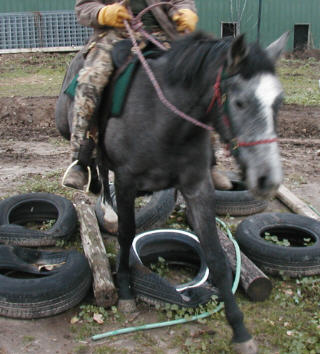 THEN WALKING ON THROUGH.
STANDING ON A LIGHT BLUE TARP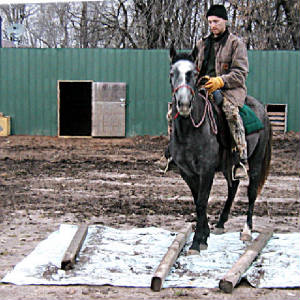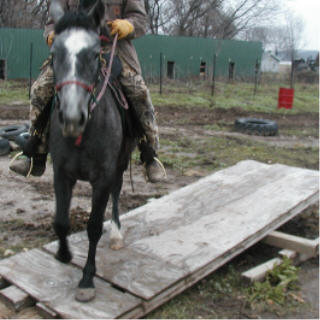 GOING CROSSWAYS ON THE TEETER-TOTTER
CHECKING OUT THE STEPS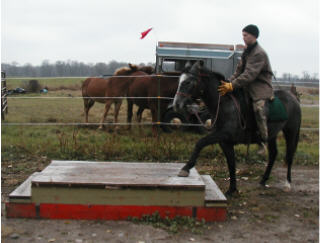 A NECK RUB FOR A GOOD TRY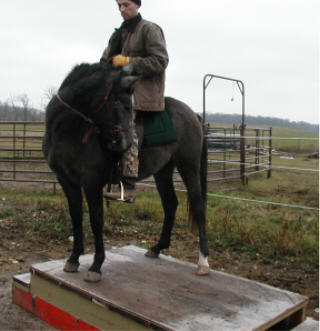 UP ON THE PLATFORM!
At the point the above photos were taken, she hasn't yet been ridden for even 30 minutes on her very first ride. You can see she is not all sweated up and worn down. She is just a nice steady horse.
The next three photos are of Blue's second day with a rider (Brad again). Went through all her ground work ok and then he mounted up. She stood just fine. She still is not moving out right away, when asked with a squeeze of the legs, but she is learning. We then walked her away from the barn about 1/2 mile, along with my mule, Sota. She had no problem leaving the others behind at the barn (but did have Sota along with her). We think she is almost ready for a trail ride. I need to do some ground driving off her bit first.
LENGTH-WAYS OVER THE TEETER-TOTTER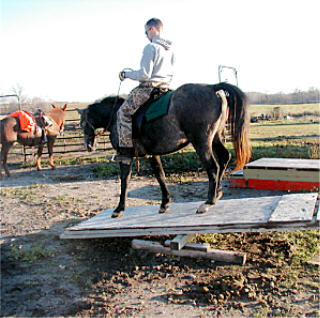 Blue went length-wise over the teeter-totter three times today. She lets it drop very smoothly as she goes over.
PUSH BARRELS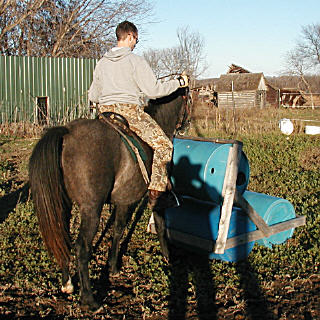 The push barrels are used to train a horse to push people (crowds) or things out of the way with their chest. Just touching it is good for the first time. Then we walk away as a reward. Blue actually pushed it a couple of feet before Brad pulled her off.
Blue now will push the barrel cart over poles layed on the ground which takes quite a little effort.
OVER THE BRIDGE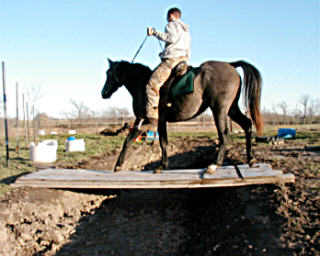 It has been so muddy lately that I had to have a trench cut through our barn paddock. So to make training use of the ditch Brad & I drug the teeter-totter top across it to make a bridge. It sags a little but Blue crossed it on the first try.
These next photos are of her third ride. At this point we're still not using the reins on the snaffle bit. Blue is carrying the bit very well. Not messing with it at all. I will do some ground driving with long lines on the bit to get trained into the feel of it before we take her out on the trail.
SWINGING BALL & RETREATING AS BLUE ADVANCES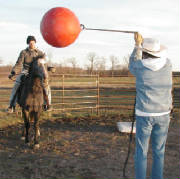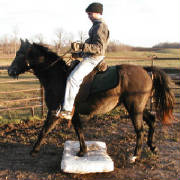 SHE ALWAYS PLANTS HER FOOT SQUARE ON THE MATTRESS
AND ON THE FOLDED WIRE MESH
BUT NOT SURE OF THE TIRE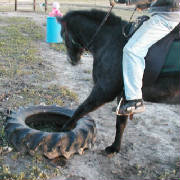 PICKING UP A RAIN SLICKER OFF OF THE MAILBOX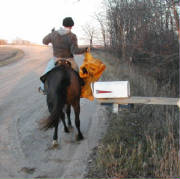 SHE'S A LITTLE SPOOKED
BUT SHE'S OK NOW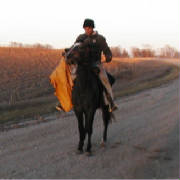 GOT MAIL?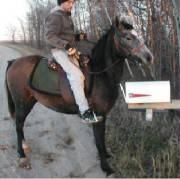 THE SLICKER IS COVERING THE TOP OF BLUE'S HEAD.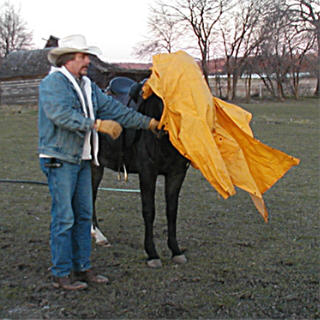 NOT JUST BEING WAVED IN FRONT OF HER
After Brad worked with Zi today (Nov.6th) he went for a ride with his wife, Mallory. Brad rode Blue and Mallory rode Ranger. It was planned to be a trail ride but due to it being the first day of the deer season they decided to go for a pasture ride instead. I don't think Blue knew the difference.
I had to zoom in on these photos as they were way out there.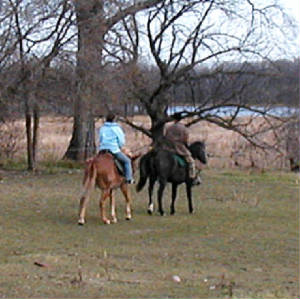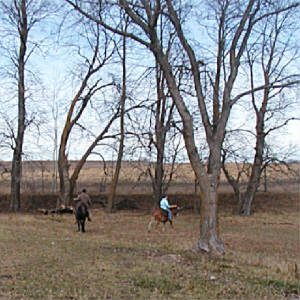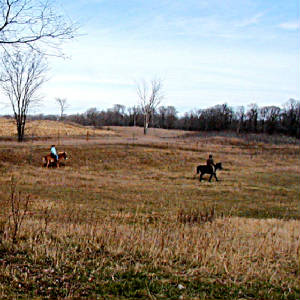 Brad is working Blue back and forth over some logs. She is crossing them quite well.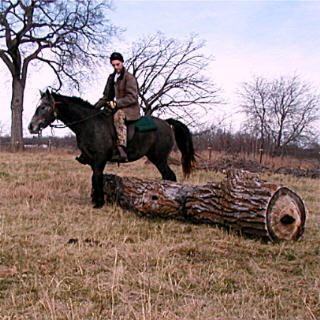 These next three photos are of Blue being driven on long lines. I like to use this method when first attaching lines or reins to the bit. This isolates the rein cues from any other cues being given to her.
Once turning, stopping, and backing, is learned we add the leg cues in combination with rein cues when on her back. She caught on quickly as most horse do. Then she let me work her from either side.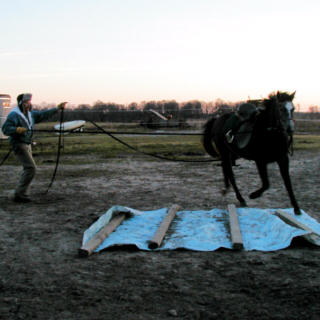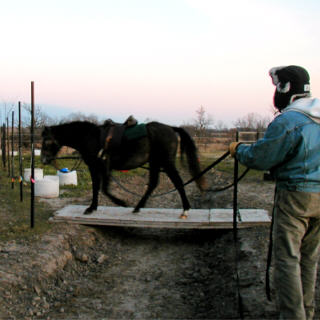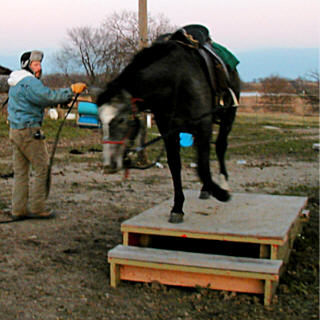 Although it is not legal to use horses while deer hunting in Minnesota, one of our horses may end up being used to pack out wild game out west. So we desensitze them to blood and fresh deer hides. Blue didn't seem bothered much at all. She did snort a couple times at first but then realized it was no threat. These next photos are her first introduction to a fresh deer hide.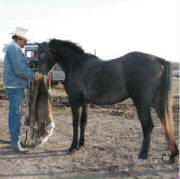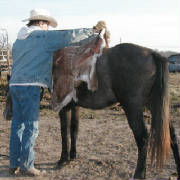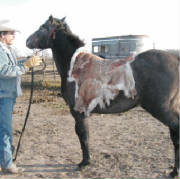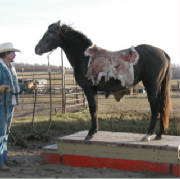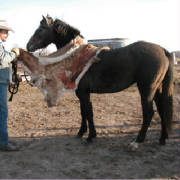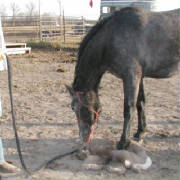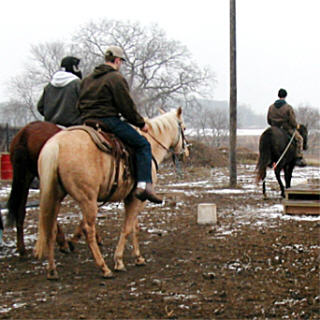 In photo above, Blue is pulling a bucket tied to a rope. Zi and Sota are following it as it bounces along.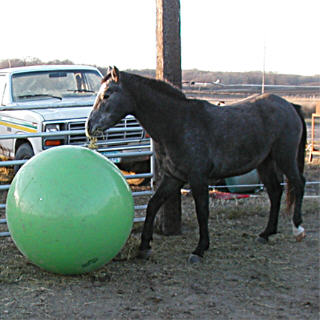 Blue has very little fear of the big green ball. She will not budge from her hay when I kick it at her and it bounces off her legs, flanks or belly.
Today, Nov. 26, Brad and I played a game of horseback soccer with the ball. Brad on Blue and I on Sota. Blue was very agressive in getting the ball knocked down to the other end of the pen.
The last few rides we have had the reins connected to the bit. She turns and backs off of very light rein pressure.
We have not spent a lot of time working on Blue's trailer loading & unloading though she is doing fairly well at it, standing in there for 20 minutes at a time while eating. Any horse that will load into a single stall of a two-horse trailer will have no problem loading into a stock trailer.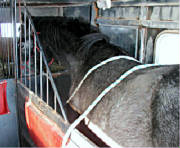 Since this photo Blue has been on two 1 hour trailer rides and has behaved quite well. Loading & unloading just fine.
As of Dec 19th she has had six rides and about 6 hours of riding time on her.
I have had several inquires from folks that are looking for a dead broke, been-there-done-that, layed back, bombproof, trail horse and wondering if Blue is the horse for them.
The answer to that is "NO, she is not". She is very steady for her age but she is young and fairly high energy. And still not a lot of saddle time under her belt. For a "teen-ager" she is doing quite well though.
One day with the correct continued training she may get close to that bomb proof stage. No horse is really bomb proof. There are always things that will frighten a horse if it has any life left in it.
SPRING 2005 UPDATE:
Blue is now a 3 year old. She has been out to pasture since the middle of December. I have had little time this spring to
work with her but have been doing some ground work.
Brad has taken her on a couple short trail rides. Here is
a shot of her down at the lake for the first time.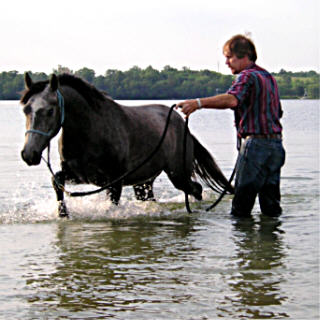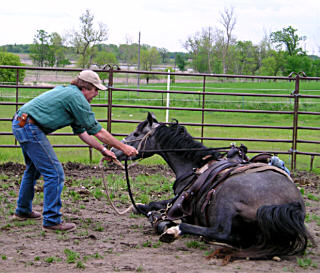 I LAYED BLUE DOWN JUST ONCE TO SEE IF SHE WOULD
DO IT. THREE YEARS OLD IS STILL TOO YOUNG TO DO
MUCH OF THIS. AT FOUR THIS TRAINING CAN BEGIN.
BUT WE STILL PRACTICE BOWING.