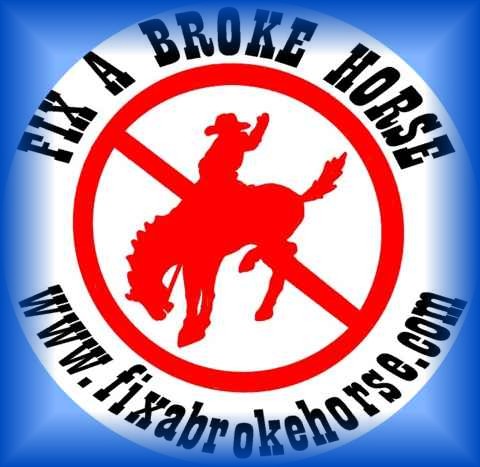 DO YOU OWN AN EQUINE WITH AN ATTITUDE ?
"My horse is broke, but he's got this problem....... and it needs some fixing."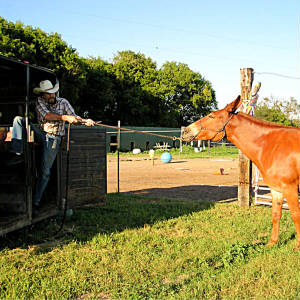 CHANGE A STRUGGLE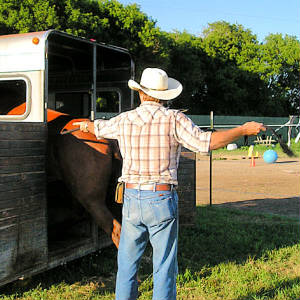 TO A POINTED FINGER
THAT ONE LITTLE PROBLEM COULD BE:
CAN'T CATCH HIM
CAN'T HALTER HIM
TROUBLE TRAILER LOADING
PULLS ON LEAD ROPE
WON'T LEAD ON A LOOSE ROPE
BOLTS
WON'T CROSS WATER
WON'T STAND STILL TO MOUNT
CAN'T GIVE SHOTS
CAN'T GIVE WORMER
CAN'T WASH WITH HOSE
CERTAINLY CAN'T TOUCH HIS EARS
WON'T STAND FOR FLY SPRAY
SPOOKS EASILY
STEPS ON MY FEET
WON'T DROP HIS HEAD TO BRIDLE
PUSHY
MOVES OUT TOO FAST ON LOOSE REIN
TROTS WHEN HE'S NOT ASKED TO
WALKS TOO SLOW
WON'T STOP
WON'T GO
TURNS HIS BUTT TO ME
BITES
REARS UP
BUCKS
WON'T LISTEN TO ME
RUBS HIS HEAD ON ME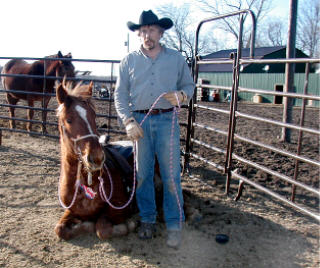 We'll talk over your horse's "problem(s)", and then form a plan to overcome them. This plan will involve training for the horse, but also requires training time for you along with your horse.
I will help you separate the unwanted response of the horse, that you see as "the problem", from the real problem. Helping you to see the unwanted response as only a symptom of the real problem. Then help you and your horse deal with the real underlying problem you can watch the unwanted response(s) disappear.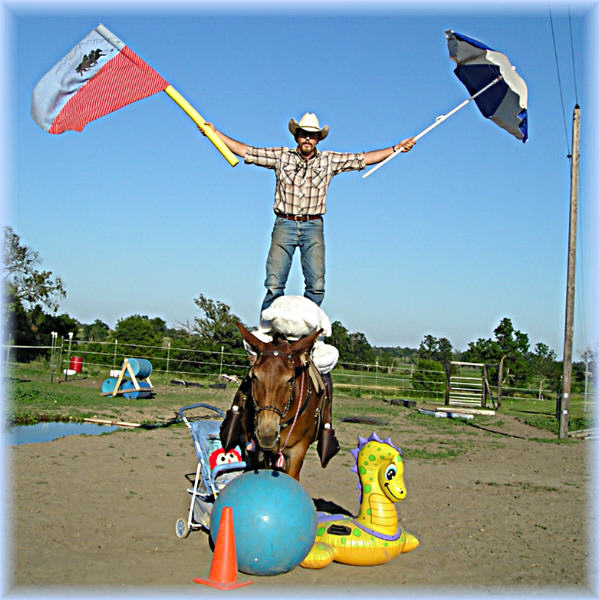 BRIDGE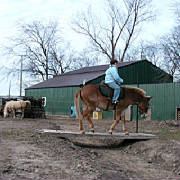 LARGE BALL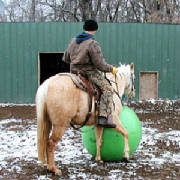 RAIN SLICKER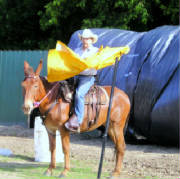 TEETER-TOTTER
STEPPED PLATFORM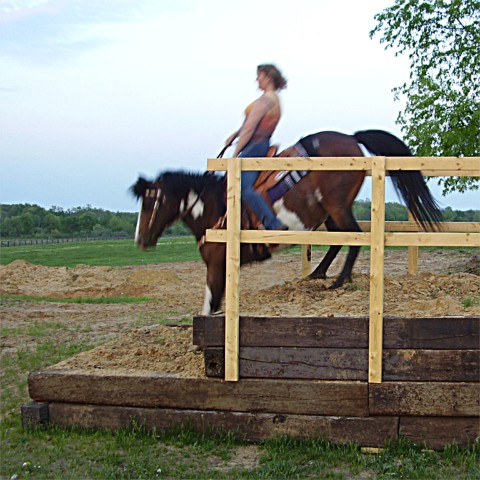 CROSSING WATER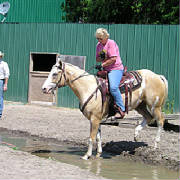 BALE RING & NOODLES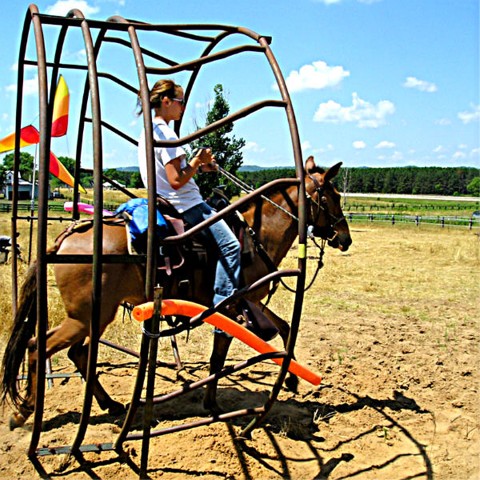 MATTRESS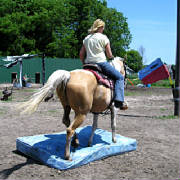 TWIRLING TOP SPRINKLER
CARRYING OBJECTS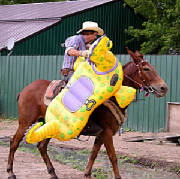 SPIDERMAN & STROLLER
PULLING BUCKET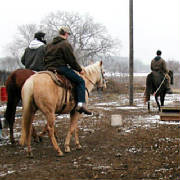 CHECK MAIL BOX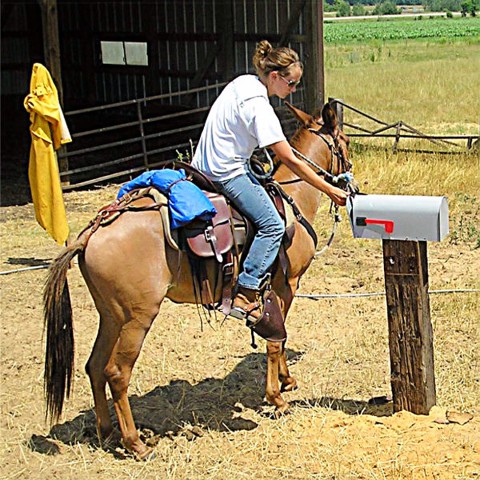 PACKING HIDES
IN HARNESS ON ROAD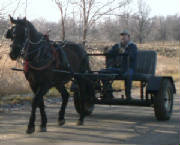 STAND FOR THE SHOT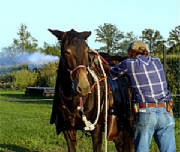 IN HARNESS OFF ROAD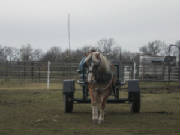 WANT YOUR HORSE TO LEARN SOMETHING UNIQUE? LAY DOWN UNDER SADDLE, BOW TO MOUNT, OR LOAD INTO A PICKUP!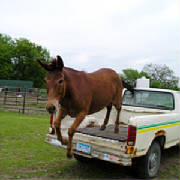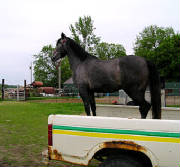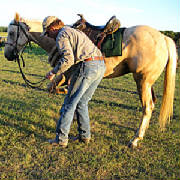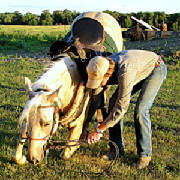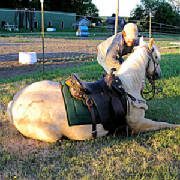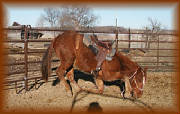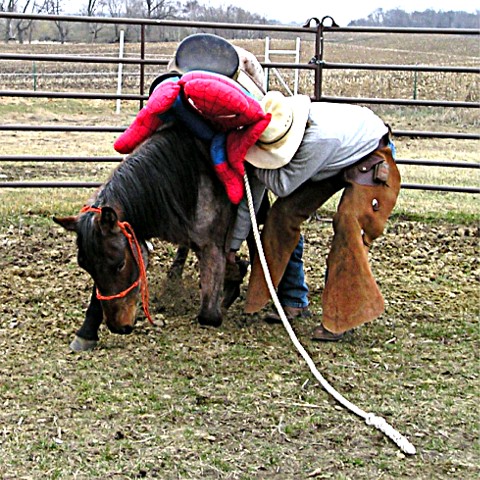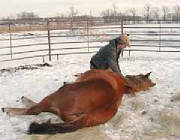 THANKS FOR VISITING OUR WEBSITE