ROPE HALTER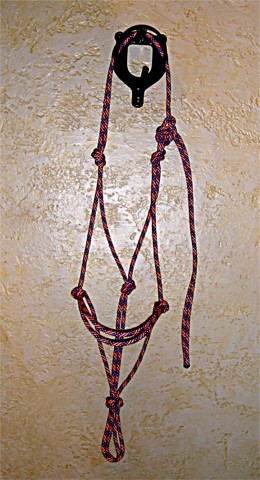 A rope halter is one of my most important pieces of equipment.
I make my own. I don't like them too stiff, as they can be to harsh for normal wear if you want to leave them on under your horse's bridle.
I know that it ain't the "cowboy way" to leave it on, under the bridle, but many folks find it is handy to have a halter on already on when they stop on the trail for a rest.
I like rope halters soft, but I don't like them too limp. Too limp a rope makes it hard to get their attention during training.
I can add extra nose knots (more pressure points) if you wish, or plate the two nose ropes into one flatter rope (less nose pressure). I do not care for the extra nose knots, myself.
I use a fidora knot under the chin, which makes it very adjustable.
This is good quality 600 lb, 1/4 inch, braided polypropolene rope manufactured right here in the good ole USA.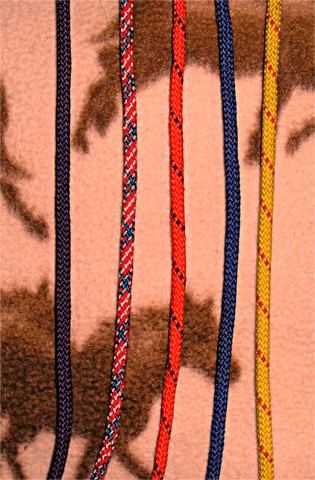 PLATED NOSEBAND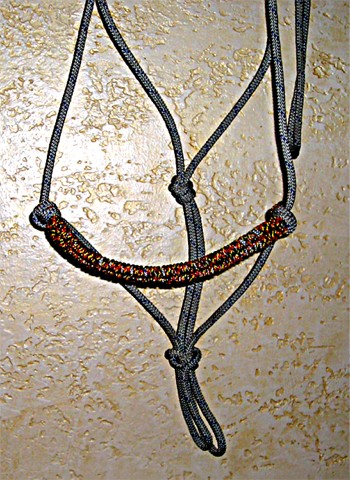 At this time colors are Deep Purple, Red-White-Blue, Orange, Blue, and Yellow
We also now have camo-green and a small supply of Deep Green.
ROPE HALTER PRICING
Pony, Arab, Lg Horse $20.00
Warm Blood / Draft $24.00
Custom Horse or smaller $20.00
Custom Warmblood/Draft $24.00
Plated nose band $10.00
Choose a size from my chart below, or custom order
one to the dimensions of your choice.
"ATN" is the measurment "Around The Nose". So if your horse measures 22" around the nose then the Arab measurements is what would fit the best. Sometimes a a Halflinger, a mule, or a draft cross horse will need some custom measurments for the best fit.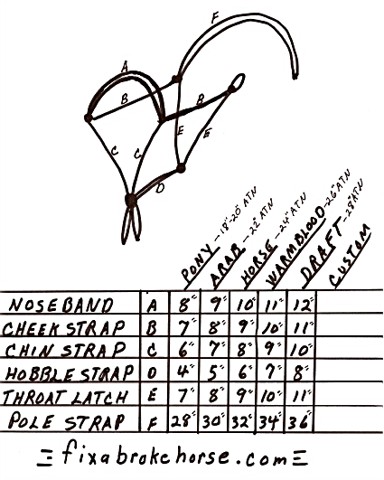 12 FOOT COTTON LEAD ROPE
EYE LOOP CONNECTION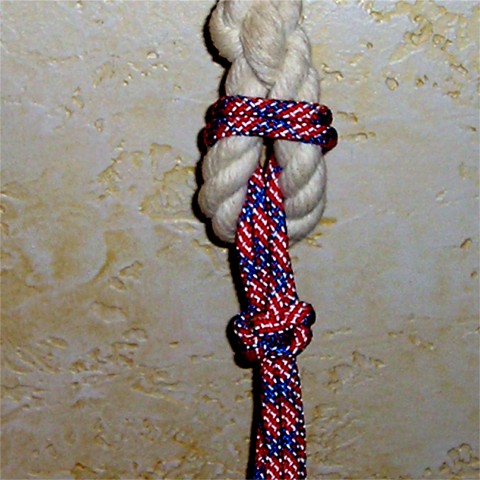 ONE-THUMB BULL SNAP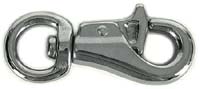 I like cotton for my lead and working ropes. I don't care for poly, nylon, or yaht type ropes. I often work bare handed and I know what a rope burn feels like. Cotton is much nicer to my hands. I just like the soft feel of cotton. If a horse gets tangled, it's softer on them as well. I find that 5/8" cotton rope is easier to grip than 5/8" yaht rope.
For most folks, a 12 foot rope is about right. If you have monkey arms like me and prefer to twirl the end of the rope to create pressure, instead of using a stick, whip, or cane then you may want 15 or 16 ft.
I back splice one end and put an eye splice in the other. I usually prefer not to use snaps as I don't like the way they bang the horses jaw when I shake the rope. Connect the lead rope to the halter by putting the eye splice through the halter loops and then draw the halter through the eye splice.
I do understand the need for a snap on occasion so I offer them that way as well. I use a one-thumb snap that even a small handed person can quickly open with just their thumb.
12 foot 5/8" cotton lead rope. $18.00 $.1/ft extra feet
30 FOOT x 5/8" COTTON TRAINING ROPE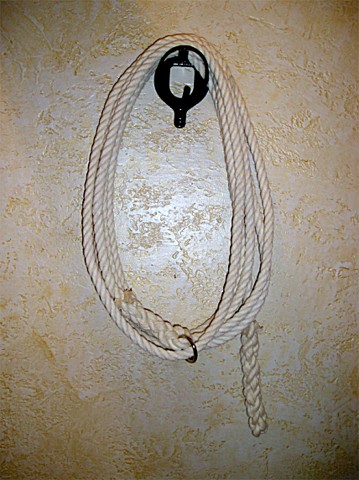 This is a 30 ft 5/8" cotton rope back spliced on one end and a steel ring installed in the eye splice to act a fast release honda.
This rope has several different uses but primarily for using around the neck of a green horse in training. Used to send and lead them at a distance before halter work has begun. I don't care for stiffer lariats for working with horses.
I believe horses are horses, just animals, but still it is our responsibilty to treat them kindly when in our care. I'd rather put cotton around their neck (as well as in my hands).
30' x 5/8s" COTTON TRAINING ROPE W/RING $40.00